On the International Day on May 18th art works came alive in a new way.
Make-up artist Natascha Pedersen transformed four people into art pieces, in collaboration with hair dresser and stylist at Salon Priscilla, Ulla Sievertsen. Natascha found inspiration in the art museum's collection, and designed four looks for four living art pieces, where Ulla did the hair. The dancers, Madelaine Gordon Graadahl and Alexander Montgomery-Andersen, actor Klaus Geisler and first timer Bella Nielsen where transformed into these four art pieces.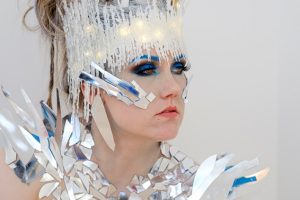 Madelaine Gordon Graadahl became an iceberg, or a part of the inland ice. The look was inspired by landscape paintings, especially the Emanuel A. Petersen paintings. Pieces of "ice" were put on Madelaine's shoulders, on which the audience could see their own reflections. It was important for Natascha, that the audience could see their reflections. The look was designed to make people reflect over our role – the humans' role – in climate change, as well as the melting ice. Humans are part of the problem, but can also be part of the solution to climate change consequences. The reflections in the "ice" is to remind us of the melting ice and that climate change also affects us humans.
---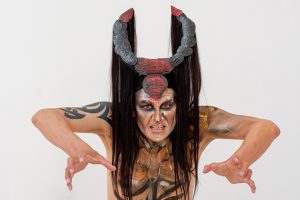 Klaus Geisler has become a tupilak, inspired by the museum's collection of tupilaks. The history of the tupilak's development from being a vengeful spirit in the old myths, to today, where the tupilak is mostly used as an ornament or in art works has been part of the thoughts behind the look. The tupilak became a live creature through Klaus on the 18th of May, where Klaus animated the terrifying traits of the spirit, but also it's more amusing grotesque features.
---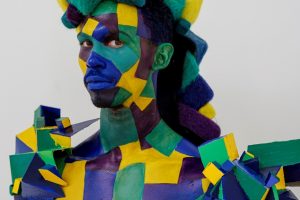 Alexander Montgomery-Andersen became an abstract art work with inspiration from Frederik Kristensen Kunngi's art piece. Kunngi often works with the shape of the square. He wants to change the square, and he attempts this using lines and colours. He often uses four colours, of which he hides the fourth colour. In this work, Kunngi has used yellow, green, blue and red. When you mix blue and red, you get purple, and this is how Kunngi has hidden the red colour in his piece. Kunngi challenges how we look at squares and colours, and by animating the work on to a person, we can transfer this challenge on to how we view people and persons. Can we put people in perfect squares or boxes? Can you judge a person just by looking at them, or do they have hidden qualities that we can't see with just a glance?
---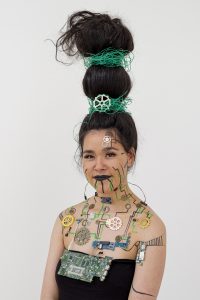 Bella Nielsen was transformed into a person with an extremely high topknot in a future where electronics have become part of the human body. The look was inspired by Robert Holmene's piece "Qanga maannalu" ((ancient) past and presence). Who are the people of the future, what do they look like, and will we still be able to recognize them?
---
Make-up artist: Natascha Pedersen
Hair stylist: Ulla Sievertsen, Salon Priscilla
Art models:
Klaus Geisler
Madelaine Gordon Graadahl
Alexander Montgomery-Andersen
Bella Nielsen
Photography/video: Ceastian Rosing, Cloud Nine Media
Sound: Siri Paulsen, Sialuk Productions
Thanks to the sponsors:
Nuummi Najukkami Ataatsimiititaliaq (Local Elected Committee in Nuuk)
Tapiissuteqarfik Sermeq (Sermeq Fund)