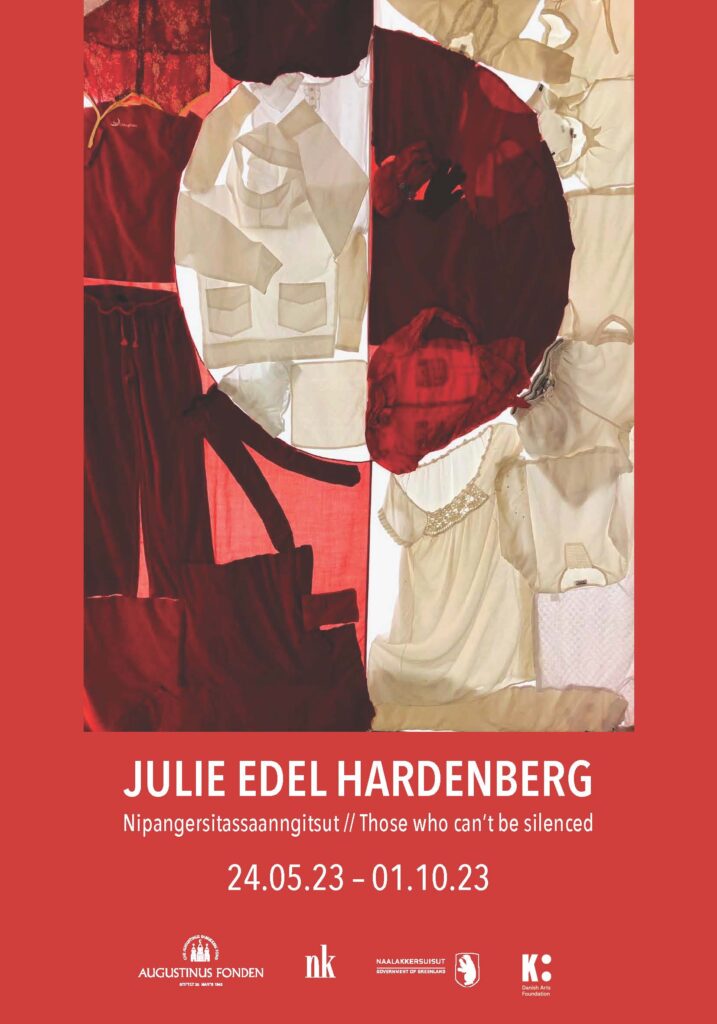 The retrospective solo exhibition with artist Julie Edel Hardenberg. "Nipangersitassaanngitsut // Those who can't be silneced" is opening on Wednesday the 24th of May 5-7 pm . The exhibition as a whole questions Nordic history, it's presence and relevance in Greenland. The exhibition illuminates and articulates questions regarding identity, ethnicity, language, colonialism, racism and the right to your own history.
2023 is the 70th anniversary of the constitutional amendment which abolished Greenland's colonial status with the subsequent incorporation of Greenland and the Inuit/Greenlandic population into the Danish kingdom. Julie Edel Hardenberg's work and artistic production examines and articulates the political and cultural influence of Danish colonial history in Greenland.
Julie Edel Hardenberg (b. 1971) was born and raised in Nuuk, Kalaallit Nunaat/Greenland. She studied art in Finland, Norway and England before gaining her MA in Art theory and Communication at The Royal Danish Academy of Fine Arts. In 2022 she received the Novo Nordisk Foundation – Mads Øvlisen PhD scholarship in her practice-based artistic research: "Between power and powerlessness – the de/colonized mind". She researches the more invisible aspects of the colonial structures and the reproduction of these, illuminated through the personal memories and experiences that exist among the Greenlandic population. She lives and works in Copenhagen, and is affiliated to the Royal Danish Academy of Fine Arts and University of Copenhagen, beside her Associate Professor II position at Bergen Art Academy. For the past 30 years, she has worked with identity and (post-) colonial perspectives as an overall theme.
The opening is set in connection with Nuuk Nordic Culture Festival, that's happening on the 25th to the 28th of May. The exhibition will be up until the 1st of October 2023.
The exhibition is funded by the Self-Rule Government of Greenland through Tips og lottomidler, Augustinusfonden and Statens Kunstfond.