Aalut and Collective Authorship at the Nuuk Printing Press
Five European men with bushy sideburns, strange hats, buttoned vests, and rifles encircle a Kalaaleq man. His feet firmly planted on the earth, the man assumes an assured and rebellious pose. With furrowed brows, he glares at one approaching soldier, lifts his clothing to expose his bare flesh, and wraps his right hand around the cold metal barrel of the rifle. The defiant Kalaaleq at the center appears to be in imminent danger, surrounded on all sides, and with few options to escape. The man at the center is the son of Kiinaki, murdered by European whalers at Uummannaq. Various accounts describe that either an angakkoq, or the boy's mother, provide a protection charm so Europeans would neither see nor harm him. Foreigners stepping onto Inuit lands also activated the charm, making their noses bleed profusely so that they would leave with haste.[i]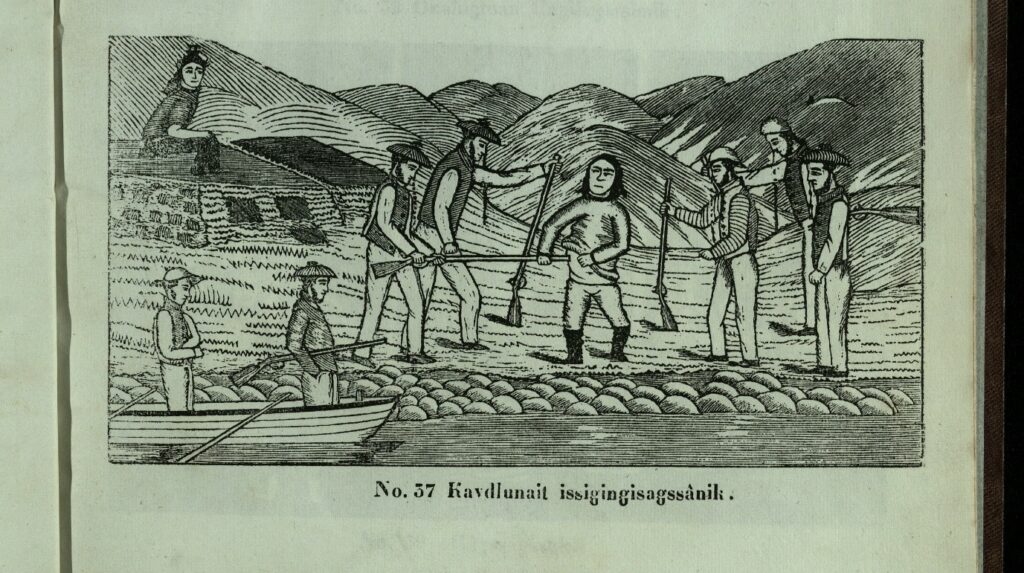 Aalut Kangermiu, Kavdlunait issigingisagssânik, printed in Kalaallit Assilialiait, 1860.
On the shore, two more Europeans await in a boat, one armed and calm, the other nervous. On the water, their noses do not bleed. In the upper left-hand corner, an Inuk woman sits on top of a turf house, anxiously awaiting the outcome of this conflict. As she hunches forward, the outline of a hill slopes downward towards the center of the composition, drawing the viewer's attention back towards the tension. As he presses the cold metal rifle into his soft, warm belly, the son of Kiinaki is outnumbered, but we know this man will prevail. The inscription underneath the image explains: kavdlunait issigingisagssânik—he cannot be seen by Europeans.
In the story, visibility shifts depending on audience. What is clear to Inuit remains imperceptible to Europeans. In carving this tale into a woodblock and printing it onto paper with ink, Aalut Kangermiu makes the narrative visible to all audiences. What has remained invisible about Aalut's image is not so much the characters of the story, but rather the many artists who collaborated with Aalut to make these images possible in the 1850s and 1860s.
On 22 April 1858, South Greenland's new colonial administrator H. J. Rink published a request to create "something for the entertainment or enlightenment" of Kalaallit.[ii] The call resulted in a robust response from Kalaallit across the country sharing stories, map, sketches, drawings, paintings, and prints, including works by Aalut. Rink expressed his admiration for Aalut's artworks from the moment he saw them, but often at the dismay of other artists.
Two years later, Rasmus Berthelsen and Lars Aqqaluk Møller printed the pictorial album Kalaallit assilialiait, a collection of thirty-nine woodcuts by six different Inuit artists. Distributed to international audiences across the world—some copies even reached places as far as Australia—the album featured the name of only one individual artist: Aalut.[iii] In his introduction to the album, Rink stated "the best of these woodcuts are the production of a Greenlander named Aron, living near Godthaab, who has received no better education than the generality of his countrymen."[iv]
This notion of Aalut as distinguished from and superior to the other Kalaallit artists who contributed to the album quickly gained traction. Already by June 1862, the popular British monthly The Bookseller described Aalut as "the Raffaelle of Greenland"—a reference to the esteemed Italian artist Raphael of the early sixteenth century—and argued "the superiority of his productions fully proclaims his genius for graphic art."[v] There is no doubt that Aalut was a skilled artist, and the sheer production of drawings, paintings, and prints he created deserves acclaim. It is lesser known that many of Aalut's images are not original compositions, but instead are reproductions or reinterpretations of other Kalaallit artists.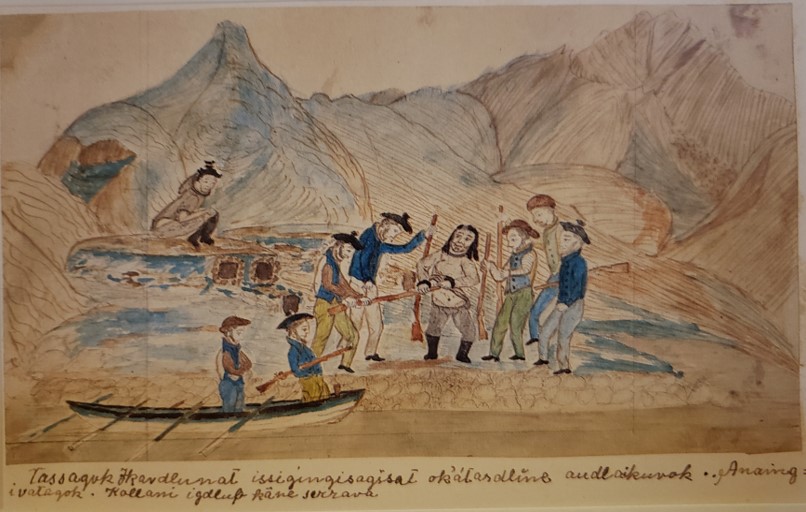 Jens Kreutzmann, Kavdlunat issigingisagisat, Watercolor and ink on paper, ca. 1858-1860, Nunatta Katersugaasivia Allagateqarfialu, Nuuk.
Take, for instance, Aalut's woodcut of the daring son of Kiinaki. Here, Aalut worked to translate a colorful watercolor painting by Jens Kreutzmann into the grooves and incisions of the woodcut. This transformation was at the direction of Rink, who personally determined which artist received credit, and which artists did not. It is clear that Aalut had cropped Kreutzmann's original painting, focusing our attention more specifically towards the conflict. By contrast, Kreutzmann devoted equal space to the setting of the story, prioritizing the mountainous landscape. In many of his drawings, Kreutzmann created rhythmic lines that bend, contract, and release like the shifting properties of water. Just as water transformed rock and stone into new shapes, so, too, do these flowing lines and repetitive dots articulate the living landscapes of the mountains.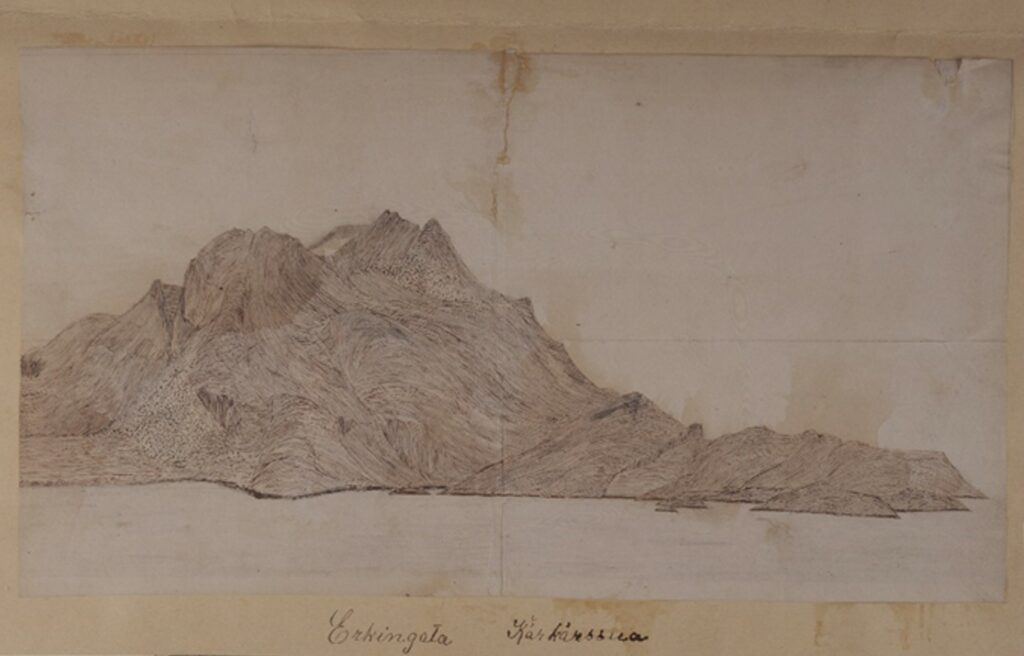 Jens Kreutzmann, Erkingata Kârkârssua, ca. 1858-1860, ink on paper, Kulturhistorisk Museum, Oslo.
Kreutzmann's soft, sinuous lines disappear in Aalut's graphic rendition. One reason may be the physical differences between drawing and printmaking. The physical and material act of carving thin, repetitive lines into a woodblock, anticipating the image's reversal, and the interaction between black ink and white paper require more forethought and patience than drawing directly onto paper. Even in this distinction between watercolor and print, another aspect of making brought other individuals into the mix. In the 1860s, Rasmus Berthelsen was usually responsible for printing Aalut's blocks onto paper. Sometimes, Berthelsen was the printmaker who embellished a limited range of bold blue, orange, green, and red pigments onto Aalut's black-and-white compositions. In doing so, Berthelsen brought the print closer to Kreutzmann's original painting through a series of collaborations across artworks, techniques, and individuals.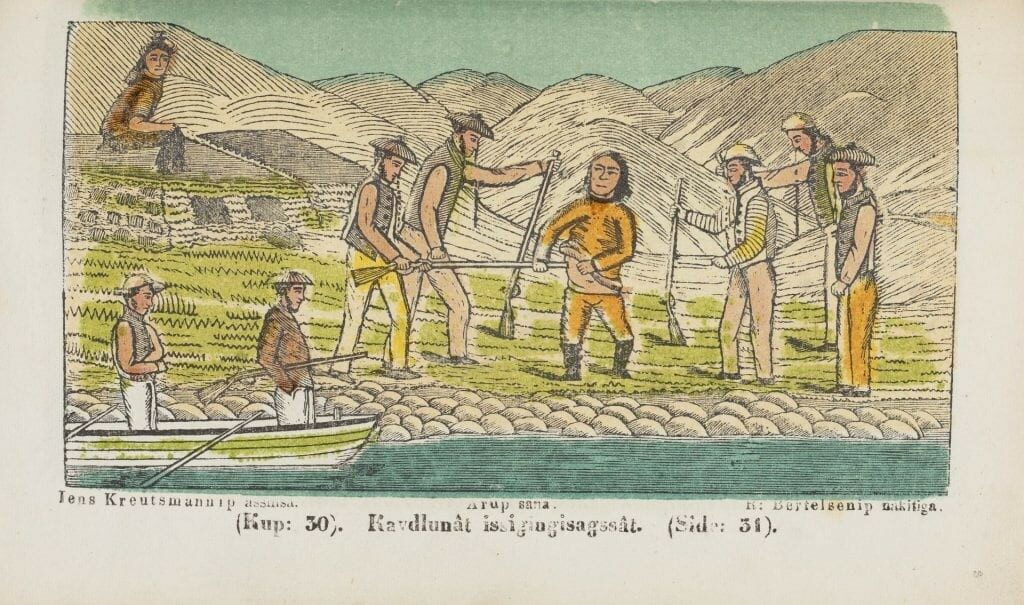 Jens Kreutzmann, Aalut Kangermiu, and Rasmus Berthelsen, Kavdlunât issigingisagssât, ca. 1860, colored woodcut.
The collaborations between artists were not always hidden. If you look closely at this color print, an inscription in Kalaallisut reads "Jens Kreutsmannip assilisa. Arup sana. R. Berthelsenip nakitiga." "Drawn by Jens Kreutzmann, [hand]crafted by Aron, printed by R[asmus] Berthelsen." It is no coincidence the information is provided in Kalaallisut, but not in other international languages. By describing prints as the products of single artists such as Aalut to international viewers, Rink wanted to frame colonial Inuit—and the Danish imperial project—as successful imitators of European priorities about individual genius and creativity. Rink's decision therefore occluded the important networks that Kalaallit artists had already established. Importantly, however, these networks did not only connect Kalaallit, and some of Aalut's prints feature less obvious citations from other images.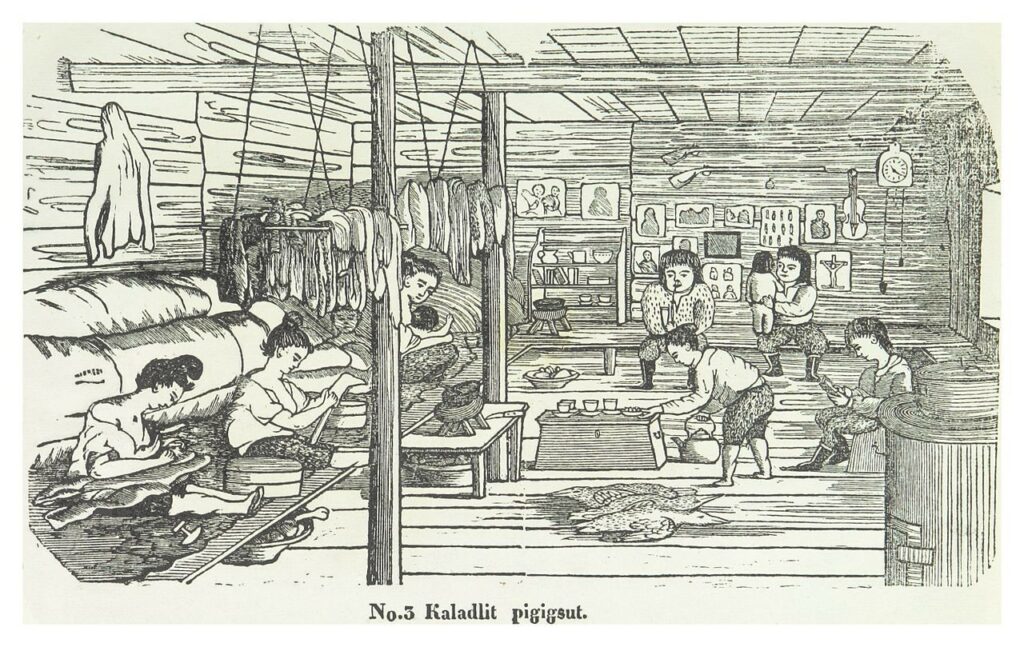 Aalut Kangermiu, Kalaallit pigissut, ca. 1860, woodcut.
Aalut's print Kalaallit pigissut features one of the most visually complex depictions of the interior of an Inuit household in the colonial period. This print offers important information on issues as distinct as women's livelihoods, coffee consumption, and literacy, but let us take a look at the seated young man, smoking tobacco in a pipe. He sits in front of a wall covered in images, a clock, a violin, and two rifles. Indeed, Aalut's image is an excellent example of conspicuous consumption by wealthy Kalaallit. Beyond these cultural signifiers, the man with a pipe is also reveals important formal qualities of Aalut's artistic practice. The man's round face and stocky body shares a striking similarity with a character in a watercolor painting made around 1857 by Hinrich Rink.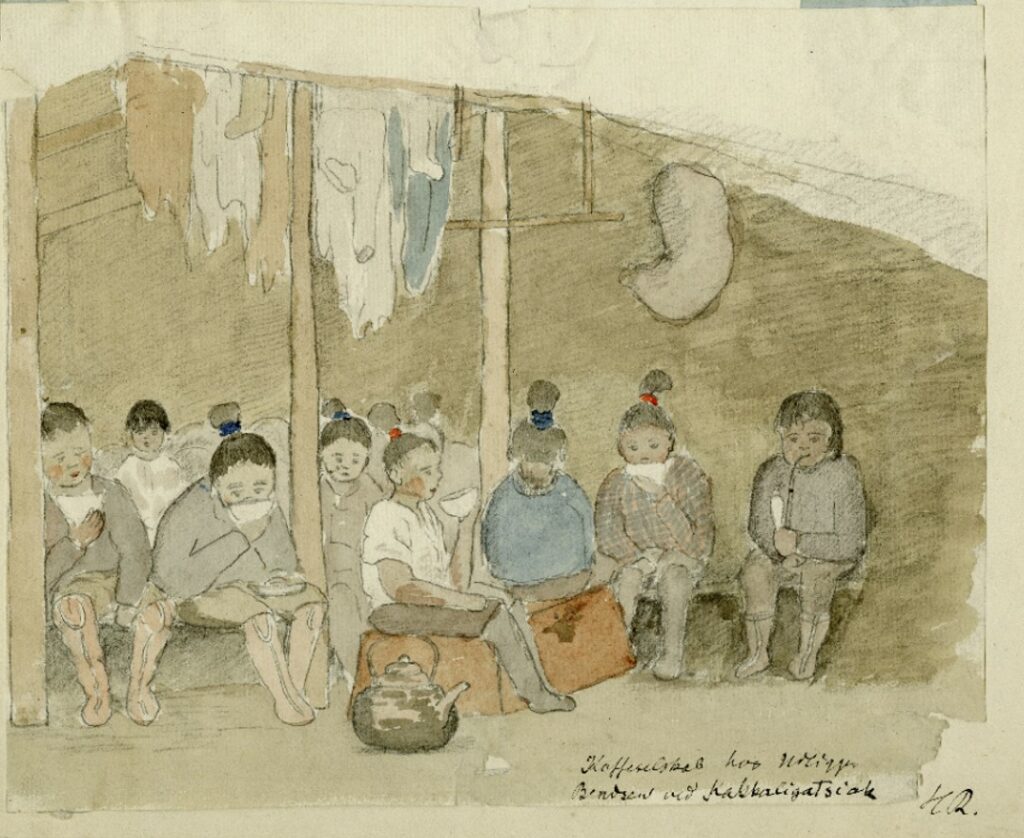 Hinrich Rink, A Coffee Party, ca. 1857, watercolor and pencil on paper. Kulturhistorisk museum, Oslo.
This painting was a sketch Rink made with the English title A Coffee Party, where the hospitality of summertime kaffillerneq takes place in a cozy space among friends and family.[vi] Art history does not usually understand Rink as an artist, but rather as an institutional figure who facilitated the flow of materials and tools to Kalaallit artists in the 1850s and 1860s. Aalut's citation of Rink compromises the "authenticity" of Inuit artists that Rink so desperately wanted to present. Instead, these references reveal the cooperative and collaborative atmosphere across artists and colleagues, as they worked together to forge a crucial new chapter in the history of Greenlandic art.
This article was written by Bart Pushaw, a Mads Øvlisen Postdoctoral Fellow at The Art of Nordic Colonialism, University of Copenhagen. 2022.
Sources:
[i] L. Møller and R. Berthelsen, Kaladlit okalluktualliait: Kalâdlisut kablunâtudlo, Vol. II, Nuuk: Inspector's Print Shop, 1860, pp. 22-30.
[ii] H. J. Rink, "Indrydelse. Nalunaerut." Nuuk: Inspector's Print Shop, 1858.
[iii] T. E. Rawlinson, Transactions and Proceedings of the Royal Society of Victoria. Vol. VI. Melbourne: Wilson and Mackinnon Printers, 1865, p. xviii.
[iv] R. Berthelsen and L. Møller, Kalaallit assilialiat, or Woodcuts Drawn and Engraved by Greenlanders. Nuuk: Inspector's Print Shop, 1860.
[v] "The Fine Arts in Greenland," The Bookseller, June 1862, p. 388.
[vi] K. E. Møller, "Kaffe og kulturarv." Tidskriftet Grønland. 2 (2018): 100-105.