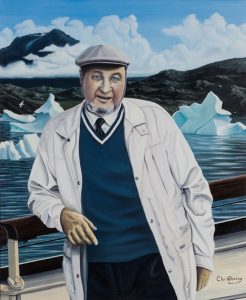 May 22nd mark a celebration for Nuuk Art Museum. The day is special for several reasons.
Nuuk Art Museum was inaugurated the 22nd of May on the founder Svend Junges 75th birthday. The museum was a gift to citizens of Nuuk donated by Svend Junge (1930-2007) and his wife Helene Junge Pedersen (1933-2018). In the deed of gift dated 15.08.2005 it was proclaimed that the museum should be handed over to the municipality, Nuuk Kommune (today Kommuneqarfik Sermersooq), by the death of Svend Junge. This donation also included the couples comprehensive collection of art withholding figures of tusk, stone and tooth, paintings, sketches and graphic art. Especially the Danish painter Emanuel A Petersen (1894-1948) and his romantic paintings of the spectacular Greenlandic nature are represented in the collection with a large number of paintings. The art works were primarily bought at European Action Houses while the couple lived in Greenland.
In 2007 Svend Junge added a new building to the existing, but it was not completed until after his death the same year.
Svend Junge was born in Jutland, Denmark, where he was skilled a carpenter. He came to Greenland in 1959 after having travelled on the continent of Africa and other places. In 1960 he became an independent business owner and subsequently an active entrepreneur in Greenland. He formed companies as hotels, steam laundry, haulage contractor and a gas station. He was engaged in associations as a co-founder of Godthåb Bådforening (the boat association of Nuuk) and Grønlands Arbejdsgiverforening (the employer's association of Greenland). From time to time he got into politics; first as a member of the city council from 1973-1981 and later as a co-founder of the party "Akulliit Partiat" in 1991.
The 22nd of May was almost magic to the couple. Apart from the inauguration of the museum and Svend Junge's birthday May 22nd was also the wedding day of Svend and Helene Junge. They got married in 1965 and on the same day their oldest daughter was baptized. A lot of their investments and business deals they also made the 22nd of May.
Besides the donation of Nuuk Art Museum, the couple donated a house to the karate club, a scanner for the hospital in Nuuk and supported the drop-in center Mælkebøtten economically. Svend and Helene Junge established the foundation Jungefonden, which today still works with charity.
In different contexts Svend Junge's contribution was acknowledged by the Landsting of Greenland. As a symbolic gesture and as a thank you for the donation of Nuuk Art Museum he received the city's golden key. He had already been honored honorary citizen back in 1989. In 1998 he received the prize of honour "Nersonaat" in silver and in gold in 2006 from the Home Rule Government of Greenland.