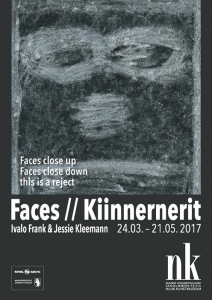 Ivalo Frank and Jessie Kleemann focus on facial expressions and political topics in a new exhibition at Nuuk Art Museum. The artists do not follow a specific way, they do not fit into boxes and they can't be controlled.
Faces // Kiinnernerit works between poetry, images, performance and politics. The exhibitions shows new drawings and paintings by Ivalo Frank combined with poetry and performance by Jessie Kleemann. The images depict facial expressions showing different moods and feelings combined with Jessie Kleemann's poetry, performance and her interpretation of the challenges in our society.
The idea is to visually mirror the spoken word and create nuances between what is said and what is unsaid. A large part of what we perceive from people around us is unconscious or latent, and the exhibition is an examination of this; the small often hidden expressions in the eye, the twitch of the mouth, the angle of a wrinkle. The artists therefore work with words, text, images and performance – to affect and activate the exhibition guest.
Jessie Kleemann and Ivalo Frank met in 2010 when they lived together in Nuuk during the exhibition KUUK and they began talking about doing projects together. Out of this cooperation came the two films RECONCILIATION and Killerbird exhibited in Katuaq in 2015, which combined poetry (Jessie Kleemann) with the visual (Ivalo Frank). The films are dealing with the acceptance of ones' past and to reconcile with it and thereby with oneself – working with poetry, body language and sound. In 2016 Jessie Kleemann and Ivalo Frank were invited to write for the Danish literature magazine Kritik publishing both an article, poetry and images. This became the forerunner for this exhibition: Faces // Kiinnernerit.