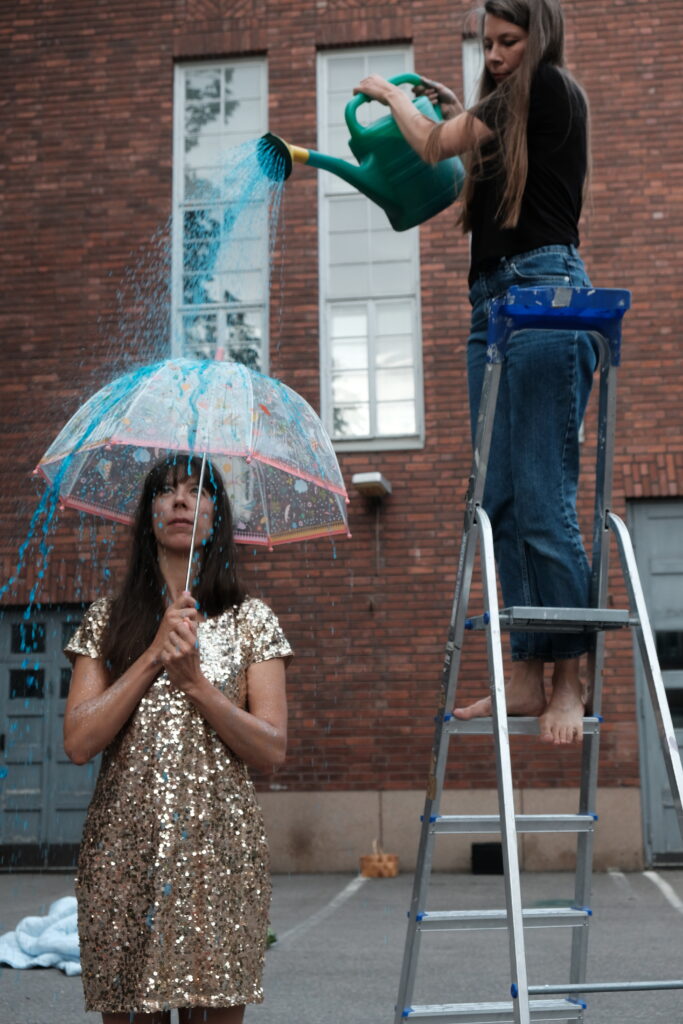 The group consists of six experienced artists; Katri Kainulainen, Maximilian Latva, Tomasz Szrama, Antti Ahonen, Linda Granfors and Aura Hakuri – all dedicated to working with performance art. They are touring across the Nordic Countries in order to present Finnish performance art and make it more known in all of the corners of the North. Greenland and Nuuk Nordic Culture Festival is their first stop on this exciting journey.
Saturday the 27th of May at 2:30-3 pm: Tomasz Szrama and Antti Ahonen
Tomasz arrived from Poland to Finland 26 years ago, and unable to express himself in any common language he started developing his own performance practice as an alternative way of communication. Eventually, meeting new people and increasing the involvement of the audience in the actions became a goal even more important than the great need to be understood. He creates intense actions in collaboration with the audience, trying to capture the essence of a particular place and moment. This time, collaborating with photographer Antti Ahonen, he wants to intentionally make a live performance in which this relationship would not only be revealed, but also exposed.
Venue: Outside Katuaq.
Saturday the 27th of May at 3-4 pm: Artist talk by Antti Ahonen
Antti Ahonen has documented Finnish performance- and underground art from the beginning of the 2000´s. He is the most dedicated performance art photographer in Finland and holds a photo archive of tens of thousands of images, which is without a doubt the largest private collection of performance art in Finland. He will open this unique archive to the audience, showing a selection of pictures and telling stories about his work and the many performances he has witnessed, through the past decades.
Venue: Friendship Hall, Katuaq.
Sunday the 28th of May at 11-11:30 am: Linda and Aura
Linda and Aura will create a performance around the internationally known Aalto vase, an iconic design created by architect and designer Alvar Aalto and his wife Aino in 1936. The vase will turn 125 years old in 2023. It was presented at the World's Fair in Paris 1937 and has represented Finland and Finnish design ever since. The vase has also a more mundane role for Finns, it is found in many homes, sometimes as an useful object, sometimes as an obsolete glass object gathering dust. The performance is a study and a test of the different uses, ideals and symbolism connected to the vase.
Venue: Nuuk Art Museum.
Sunday the 28th of May at 11:30-12: Kainulainen & Latva
The performance art duo Kainulainen & Latva will show a performance from their project Anasyrma, a series of live performances whose method is based on Finnish folklore. The themes of the performances have both an individual and a societal perspective. The performances are hybrids with crossing timelines: they combine contemporary phenomena with pagan rituals and aesthetics. The performances for example sometimes hold exact representations of descriptions of witchcraft, or more suggestive references to ideas or myths of the ancient Finnish people.
Venue: Nuuk Art Museum.