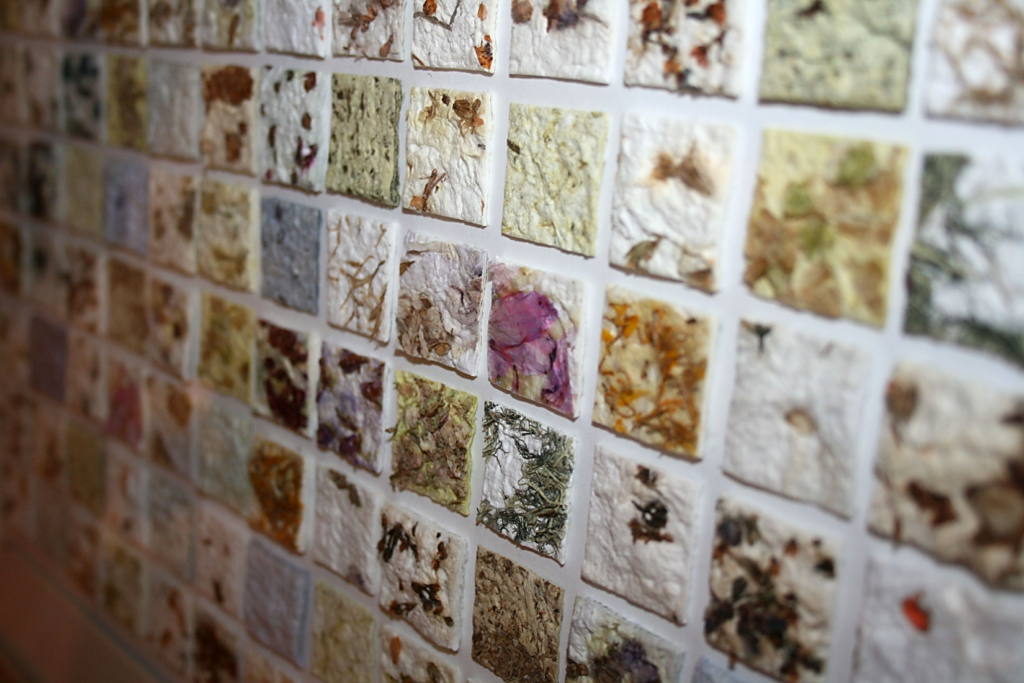 This untitled piece from 2020 was created by Ivalo Abelsen. It was purchased by Nuuk Art Museum in celebration of the museum's 15th birthday on 22 May 2020. It was purchased by the museum as a birthday gift to the museum itself. The artwork consists of handmade pieces of paper on which 42 different types of dried local flowers and plants have been attached. The paper is cut into 169 small squares that form one large square.
The creation of the work has been a laborious process. For a number of years, Abelsen has been collecting the flowers and plants during her summer walks in the Greenlandic mountains. Sometimes she has been able to collect large amounts of natural material at once, while other times she has only been able to bring home a small handful of flowers – she gathered what was available. Since the collection process took place over several years, Abelsen stored the natural material in her freezer until she needed it. The paper used in the work was made by Abelsen herself from acid-free watercolour paper, and while it was still wet, Abelsen pressed the flowers and plants into it to mould them in place. Their natural colours have mixed with the wet paper, and the paper squares reflect the entire colour palette of the plant kingdom – from greenish brown to delicate purple to blood red (1).
The 42 different types of flowers and plants used give each square its own unique and organic look. Even though the many squares are composed by a random arrangement of colours, plants and textures, harmony emerges in the piece when you see all the squares together. In a way, the work imitates the natural spreading of flower seeds that occurs in nature, which is random yet aesthetic in its entirety (1). But despite the aesthetic harmony, there is also an ambiguity in the work: the Greenlandic mountains have been collected and reshaped into small squares, and while the flowers and plants are still recognisable, there is a certain artificiality about them, as they have been taken out of their natural place (1). They have been collected, dried, systematised and put behind glass – a stark contrast to the wild, living nature. The space in which Abelsen's work is exhibited is about Greenlandic nature, based on artists' sensory, spatial and tactile approaches to nature (1). This is illustrated by the active use of nature's own materials, and several of the works in the space utilise bird feet, sand, feathers, hair, whale baleen and – as in Abelsen's case – plants and flowers.
Abelsen is not afraid to experiment with artistic expression, both in terms of form and material, and she says that she is driven by desire and wonder (2). The desire must be there to create art, and if new ideas arise, she must try them out. That's why she doesn't do the same type of art for extended periods of time, because she gets bored or new interests arise that she wants to explore more. Although many people are interested in buying new editions of her previous works – the piece described in this article is highly sought after – she doesn't make art on demand, because desire is her driving force (2). However, there are some elements that are common to most of her work. First of all, she often uses clean, simple lines and symmetry in her work (3). She has stated that she doesn't know why she returns to this aesthetic, but something about the simplicity and orderliness attracts her (2). She often utilises nature's own raw materials, such as plants, fish, birch bark and sealskin, to create art (3). While studying at the art school, they were offered dried fish one day, and it was here that she first wondered what else fish skin could be used for (2). This led to experiments with printmaking on fish skin, which was a great success as it gave the background of the works a new and vibrant expression (4). Her experimental approach to art is evident, and in addition to printmaking and handmade paper works, she has also worked with acrylic, watercolour and copper etching (3). An example of the use of the latter technique can be seen at Bank Nordic in Nuuk, where a series of etched and oxidised copper decorations depicting Greenlandic flowers and plants hang (6). Abelsen has also created the motifs for several Greenlandic stamps, both as an independent artist and in relation to the Greenlandic artists' organisation KIMIK, of which she is a member (6).
About the artist:
Ivalo Abelsen (1971-) attended the Greenland School of Art, the School of Architecture in Aarhus, trained as a teacher of visual arts and design at the Seminariet for Formgivning in Nykøbing Falster, and holds a Master's degree in Cultural and Social History from Ilisimatusarfik.
This Behind the Work article is written by Karoline Støjberg Sejersen.
References:
(1): Link to Nuuk Art Museum's YouTube video about the nature space at the museum: https://www.youtube.com/watch?v=zUFbS4tMScE
(2) From interview with Ivalo Abelsen on 13/4 2023 conducted by Karoline Støjberg Sejersen
(3): Tupaarnaq Rosing Olsen (ed.): KIMIK ukiut 20 år, Nuuk: milik publishing, 1st ed. 2016
(4): Camilla Augustinus: Grønlandske Nutidskunstnere, Danish-Greenlandic Cultural Foundation, 1st edition, 2004
(6): Link to Ivalo Abelsen's website: https://ivaloabelsen.com/