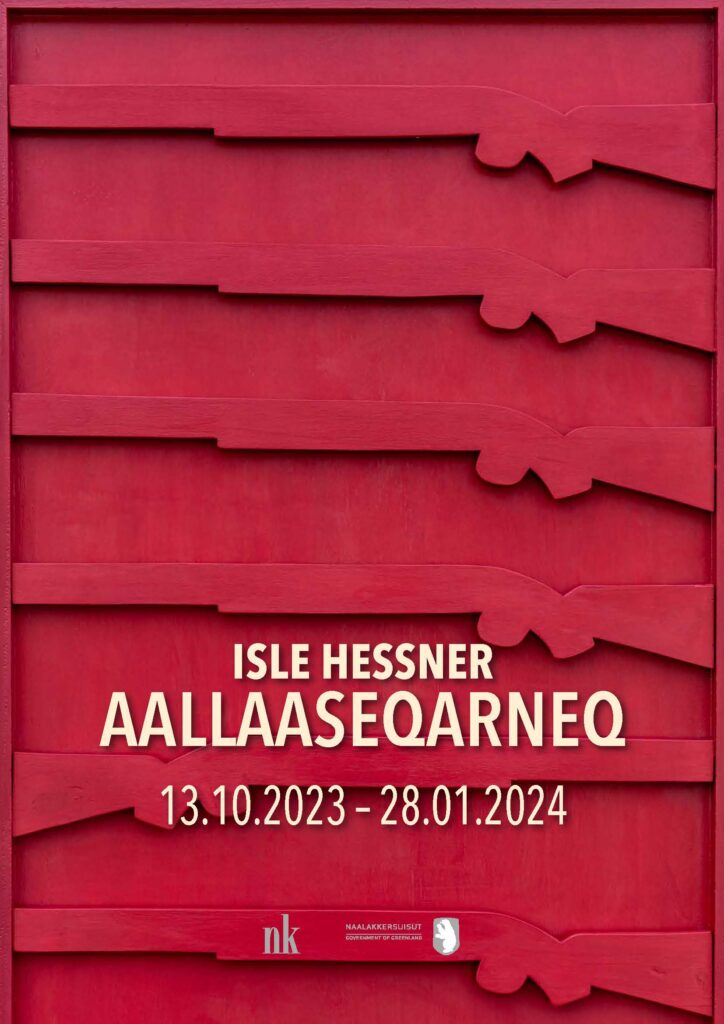 Since the 1980s, Hessner has created situational images that comments and reflects on society, locally as well as internationally – and often both in the same work. Several of Hessner's works adorn the urban space in Nuuk, but while her work surrounds many people on a daily basis, knowledge of her work is scarce.
After studying at the Greenland Art School (1986-89), she supplemented her artistic education with a craft at the Jern- og metalskolen (Iron and Metal School) in Nuuk. She continued her education at the Nova Scotia College of Art and Design (NSCAD) in Canada (1993-95) and at the University of Colorado in Colorado Springs (1998-2000). Her time at the Canadian art school developed Hessner's approach to conceptual art and her interest in coarse industrial materials such as wood and metal.
The duality between her in-depth theoretical approach and her craftsmanship is reflected in Hessner's works. They are often very large and without a specific purpose in their realisation. She works in cast iron and forged iron, stone, concrete and various organic materials such as sealskin and wood. Hessner challenges the materiality of common and overlooked everyday materials. She mixes the soft and delicate with the hard and industrial.
The exhibition title Aallaaseqarneq means "to have firearms" and is a reflection on the use of firearms in war and hunting. The title refers to a series of works themed around the relationship with weapons. Partly in relation to Russia's war against Ukraine, and partly on how firearms are used for hunting here in Greenland. Similar objects with different purposes, honored and feared.
In addition to the new works, the exhibition also includes a few older works as well as process sketches and image documentation of Hessner's previous works, including works created during her studies in the USA and Canada.
The exhibition is sponsored by Greenland's Kunstfond. The vernissage will be on Thursday the 12th of October at 5 pm, and the exhibition will be on display until the 28th of January 2024.