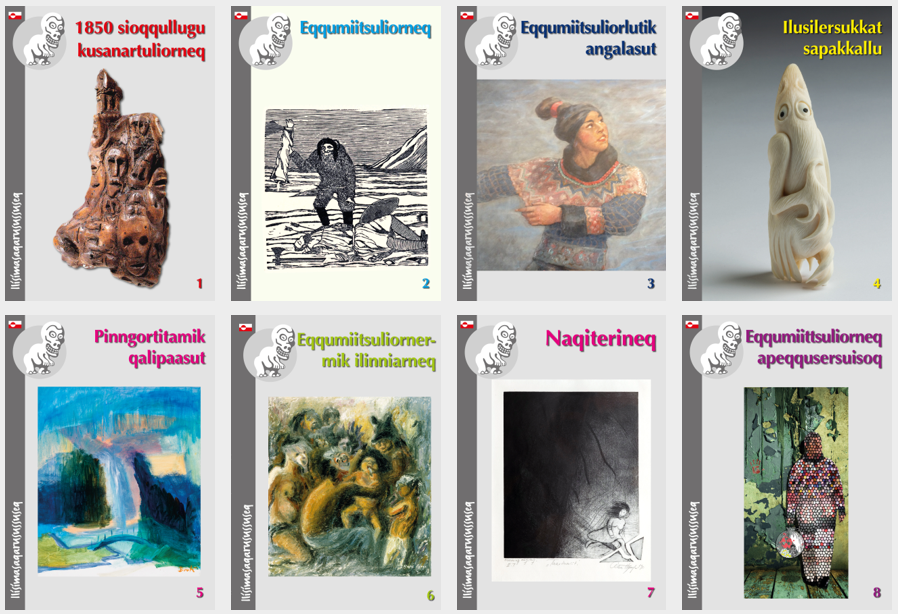 The publishing house Epsilon, in collaboration with Nuuk Art Museum, publishes eight small specialist books for children about the art of Greenland.
The eight books are based on the collections at Nuuk Art Museum and Greenland's National Museum, and each book focuses on a special theme within Greenlandic art. The themes range from decorating objects from before 1850 to contemporary art, such as works with colonial issues.
There is a great demand for educational materials about Greenlandic art, and therefore it is also with great pleasure that we can finally present the eight small books that, both in Greenlandic and Danish, deal directly with art from Greenland. The Greenlandic versions can also be a tool for talking about art, in Greenlandic, for all age groups.
In the books you can read, among other things, about art that relates directly to major societal issues such as independence and commonwealth. This is done through artists such as Inuk Silis Høegh, Pia Arke, Martin Brandt and Jessie Kleemann. You can read about how the landscape directly and indirectly moves into art. You can read about how graphic art has shaped Greenlandic art for over 150 years. The general thing about the eight books is that they each take up a theme and a problem that you can either work on individually or in conjunction with the other books. There are small discussions and they are richly illustrated with both old and newer Greenlandic art.
The books are published by Epsilon as part of the series "Vild med viden FOKUS", that publishes museum science books for children. The eight books are aimed at children aged 9-12 and are published in Greenlandic and Danish. In collaboration with Ilinniusiorfik, the books are distributed in class sets to all elementary schools in Greenland. The books can also be bought in various places both in Greenland and in Denmark, e.g. at Nuuk Art Museum and Greenland's National Museum.
The publication is supported by the 15. June fund and by Selvstyrets Kulturmidler.
(April 2023)